How is your development eco-friendly?
Given the privilege of our location, we built Océano Patagonia with the environment in mind. Our walls are made of Retak brick, a special insulating product that helps maintain ambient temperature and reduce noise transference between rooms. Our condominium uses a water recycling system so that, in our desert climate, we respect every drop, re-using this precious resource whenever possible. Rather than heating and cooling with an system reliant on coal-produced electricity and transported condensed natural gas, we have installed a Geo-Thermal system to manage the interior climate of the building and address our heating, cooling and hot water needs.  In 2017, we will install a solar energy system as an alternative source to further reduce our draw from the electrical grid. We are proud of our decisions and are currently in the process of applying for Leadership and Excellence in Environmental Design (LEED) certification. For more information on our eco-friendly status, please contact: sharilyn@oceanopatagonia.com
Is there a minimum or maximum stay?
There is a two-night minimum stay at Océano Patagonia, and we will be happy to host you until you run out of adventures to experience… how much time do you have?
Can you help me organize my itinerary?
Yes! We are happy to help you pre-book your itinerary through trusted, local services providers. Before your trip, contact us directly with your questions: info@oceanopatagonia.com. Or you leave some planning for when you arrive. Our on-site concierge will help you with all the details.
Will there be food in the fridge? Maid service?
All of our guests receive a welcome basket to help you settle in on your first day, including a small selection of breakfast items. The condominium is a short walk from our local supermarket where you will find a good selection of food and beverage items to stock your kitchen for your stay. We also offer pre-visit stocking. Contact us with details of your preferences and we will stock your kitchen with your preferred food selections, based on availability. Maid service is provided daily.
What services are available in Puerto Pirámides?
Though a small village, Puerto Pirámides has several intimate restaurants and bars offering deliciously prepared locally-caught fresh fish and shellfish, and locally-raise Patagonian lamb. There are several convenience stores and a supermarket, as well as gas stations, tourist shops and tour providers… all within easy walking distance from Océano Patagonia.
Will someone greet me at Océano Patagonia? How do I check in/out?
You will receive a warm welcome from our concierge, onsite 24 hours a day, 7 days a week. The concierge will check you in and out, orientate you to your room and the town, and be available to help you plan your itinerary and make bookings with local tour operators.
Why is Península Valdés a World Heritage site?
Península Valdés is home to the deepest salt marshes in South America and, most importantly, is a site of global significance for the conservation of marine mammals. It has been denoted a World Heritage Site because it is considered an area of important and significant natural habitat for in-situ conservation of several threatened species, specifically its globally-important concentration of breeding southern right whales, an endangered species. It is also home to important breeding populations of southern elephant seals, southern sea lions and Magellanic penguins. In addition, this area is the only location in the world that exhibits a hunting technique adaptation by the orca (killer whale). Their unique surfing technique has been featured by National Geographic and studied intensely by researchers.
The inner part of the peninsula is inhabited by rheas, guanacos and maras, among other wildlife. A high diversity and range of birds also live in the peninsula; at least 181 bird species, 66 of which migratory, can be found in the area, including the Antarctic pigeon. Several historic sheep estancias also remain operational within the reserve.
When is the best time to come?
Océano Patagonia is open year-round as each season offers unique wildlife and adventure experiences. The endangered Southern Right Whale takes shelter to rest and breed in our bay June through December. After the Right Whales leave in January, guests enjoy the breeding colonies of Southern Elephant Seals until April, followed by Southern Sea Lions and the Orcas. World-famous for their unique surfing-style of hunting, the Orcas and their calves visits the peninsula throughout the breeding season for both seals and sea lions. Colonies of Magellenic Penguins also mate and raise their young along our shores. And the dolphins live with us all year. And any given season, the land and air teem with indigenous creatures such as the rhea (a relative of the African ostrich), the guanaco (related to the llama), the mare (a large hare-like animal) and a wide variety of bird species.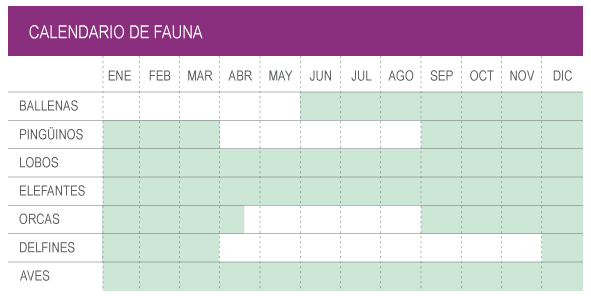 How do I get to Océano Patagonia?
Océano Patagonia is situated within a natural sanctuary on the beach in Puerto Pirámides, a sea village of approximately 400 people some 75 km along the coast from Puerto Madryn, Chubut Province, Argentina. Our guests fly into Puerto Madryn, or the neighboring town of Trelew, from Buenos Aires. A convenient car service then takes them on the scenic drive to arrive at the condominium. We can help you make travel and tour arrangements with trusted local service providers. Contact us at: info@oceanopatagonia.com
Are pets permitted?
Well-behaved dogs are a welcomed addition to your vacation with us. Please notify us of your plans to bring your furry family member so that we can make accommodations for his or her stay.