Océano Patagonia: Wild Coast Residence and Cook Martín Moroni Present
The Wild Food of Patagonia Adventure
April 7, 8, and 9, 2017
Join us for an unforgettable hands-on Patagonian food event on Peninsula Valdés. This private event is an exclusive offer presented by Océano Patagonia: Wild Coast Residence and renowned cook Martín Moroni.
Patagonia is a region of grand adventures and, thanks to its exquisite products, a unique gastronomic culture, the result of the region's fertile ocean and rugged landscape. The extraordinary wild flavours of the region are some of the best guarded secrets for Foodies of the world.
During this personalized and exciting event, you will experience a hands-on Foodie adventure in the heart of the wildlife reserve. Explore breathtaking views, unforgettable secret locations, and the memorable tastes of this region working alongside Martín as he teaches you about the food, flavours and cooking styles of Patagonia!
Day 1: Surf & Turf Patagonian Style
7:30hs Transfer from airport to Océano Patagonia
11:30hs Reception at Océano Patagonia, presentation on Patagonian food culture and what makes it uniquely special
12:00hs Fishing Village excursion to hunt Octopus
14:30hs Lunch of wild food products from sustainable Patagonian food sources
Siesta/Free time
20:00hs Patagonian wine sommelier, Octopus on the beach at Océano Patagonia
Day 2: El Curanto – Cooking with stones
10:00hs Beachside presentation and hands-on assembly of the Curanto
12:00hs Fire-side Seafood Smorgasbord
Siesta/Free time
16:00hs Final assembly of the Curanto
20:00hs Uncovering the treasures of El Curanto, Patagonian wine
Day 3: Salt and the Estancia
12:00hs Estancia life and Lamb roast assembly
13:30 hs Salt marsh presentation and hike
15:30hs Roast lamb fireside, Patagonian wine
Transfer to airport or Océano Patagonia
This offer includes: all food and wine tastings, including in-suite continental breakfast daily; hands-on cooking classes and lectures; and three nights accommodation. All of our guests will stay in Océano Patagonia: Wild Coast Residence, a new ecological and sustainable condominium located right on the beach in Puerto Pirámides, with incredible vistas of the ocean from private patios.
Transfers between the airport, Océano Patagonia and the site locations are an additional and separate cost. We have arranged an excellent package price for transfers. Contact us directly to personalize transfers to your needs. Free time during the day is offered to provide guests an opportunity to enjoy some of the tourist activities of the area during their stay, which may include: snorkelling with sea lions, boat excursions, mountain biking, hiking, etc. All tourist excursions are an additional cost and can be easily arranged through our concierge.
Wild Patagonian Food (Private Accommodation): USD$689/person
Wild Patagonian Food (Shared Accommodation): USD$649/person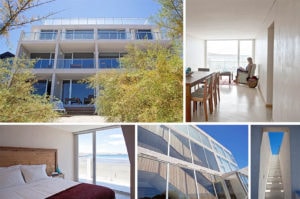 All guests participating in the Wild Patagonian Food event are invited to extend their stay at Océano Patagonia at a 20% discount from low season rates in order to enjoy Semana Santa and all that the region has to offer.
Space is limited for this private event! All offers subject to availability.